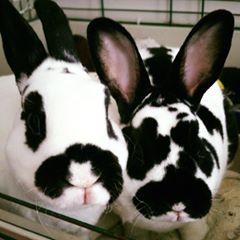 Harley and Quinn — adoptable rabbits
Our Featured Pets of the Week are Harley and Quinn, two rescue rabbits who have been with us for more than 3 years. These girls are tightly bonded and must stay together.
Harley and Quinn are bonded sisters who were born in rescue. Our youth volunteers call them the "cloud bunnies" because they are soft and fluffy. They have been waiting a very long time for a family of their own.
If you're interested in giving these sweet babies a chance, check out our rabbit care guide, then apply online when you're ready to add Harley and Quinn to your family.